Announcements & News
fall outdoor soccer
Registration begins Monday, August 8th.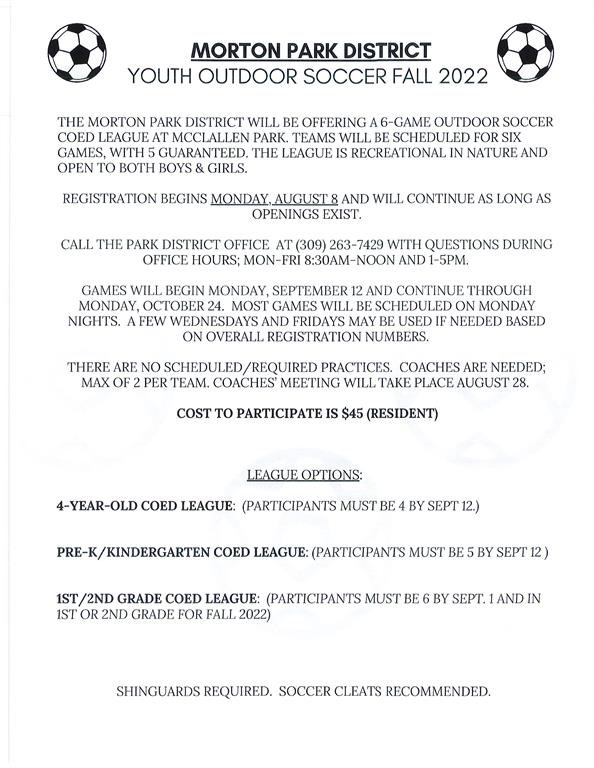 Pumpkin Festival Pickleball tournament - Thursday, August 4, 2022
The Morton Park District is excited to once again host the Pumpkin Festival Pickleball Tournament at Birchwood Park! Teams should register based on the skill level of the strongest player. Brackets and schedules will be determined by total number of entries for each division. Teams will be guaranteed 4 matches. Matches will be best 2 games out of 3. Each game will be played to 11 points, win by 2. Divisions may be combined if needed.
Dry fit t-shirt is included in the fee (one per player.)
Prizes will be awards for the following categories: 1st place in each bracket, best pumpkin festival-themed doubles pair, and most patriotic-themed doubles pair in recognition of September 11.

NO REFUNDS
reminder notice
Just a reminder when signing up for any programs or activities, please check your account and make sure you have an updated email address and phone number. We send out information throughout the year that is important and may affect a program that you or your child may be participating in. If you have questions about any program or activity don't hesitate to call the office at 309-263-7429, Monday-Friday 8:30am-12:00 & 1:00-5:00pm.
Senior Activities for August & September - Wednesday, August 3, 2022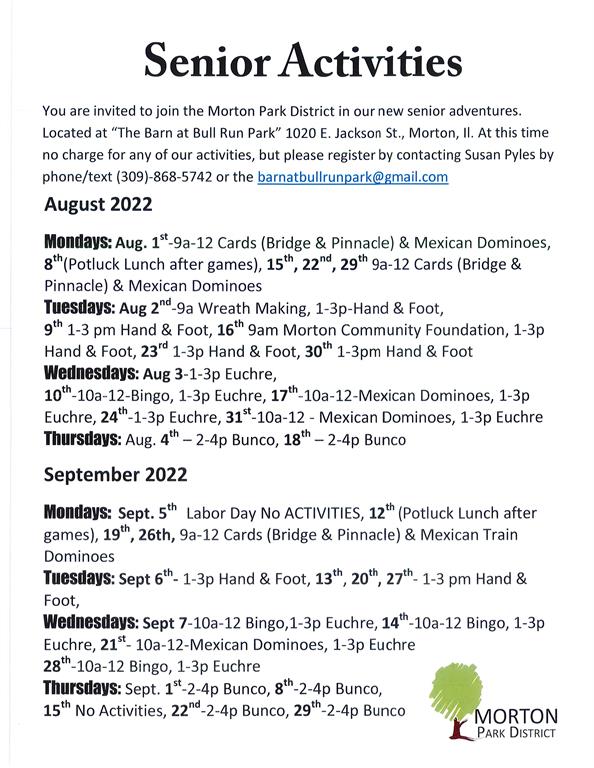 Calendar Information

To use our calendar tab, scroll to the month that you are interested in and choose a date to check out what is listed on that day. Programs are listed in green and all other activities/rentals are listed in blue. For example: if you are looking for when "play days" starts, click to November and see that on the 1st "play days" is listed in blue with times.
Also, you can click on a month and see the tab at the top that says "showing calendar for". Click on that and you will get a drop down list with whichever facility you are looking for. Click on that facility and that will show what is going on at that place. Please feel free to check if often for available dates for Freedom Hall rentals and programs.
New Account Approval
Please allow up to 24 hours for new accounts to be approved