Announcements & News
Winter Indoor Soccer - Wednesday, November 29, 2023
Registration for WINTER indoor soccer will start on Monday, December 11th and will continue as long as openings exist.
yoga - Wednesday, November 29, 2023
We have a new session of yoga starting next week on Monday, December 4th. Sign-ups have started.
Creating Artist-elf painting - Wednesday, November 29, 2023
We still have some openings in our Elf Shoes creating artist class. The classes are on Sunday, December 10. Check the program for more details or call the office 309-263-7429.
bathrooms and water fountains
Just a reminder that all of our bathrooms and drinking fountains have been shut down for the winter but you can continue to enjoy all of our parks.

The pickleball nets and screens have also all been taken down for the winter. See you next spring.
Play Days
Play days will start this Wednesday, November 1 at the indoor Recreation Center. See ya!

Here are the days and times for Play Days 2023-2024
Early Morning Walking
Early Morning walking will start this Wednesday, November 1. Hours are 7:30am-9:00am, Monday, Wednesday, and Friday's.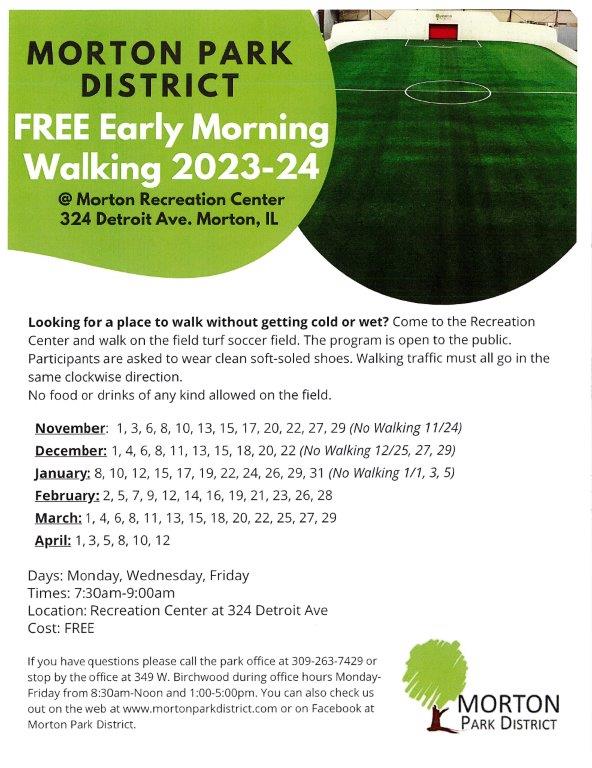 Here are our dates for the 2023-2024 indoor walking schedule.
Fall tumbling, creating artist, and sewing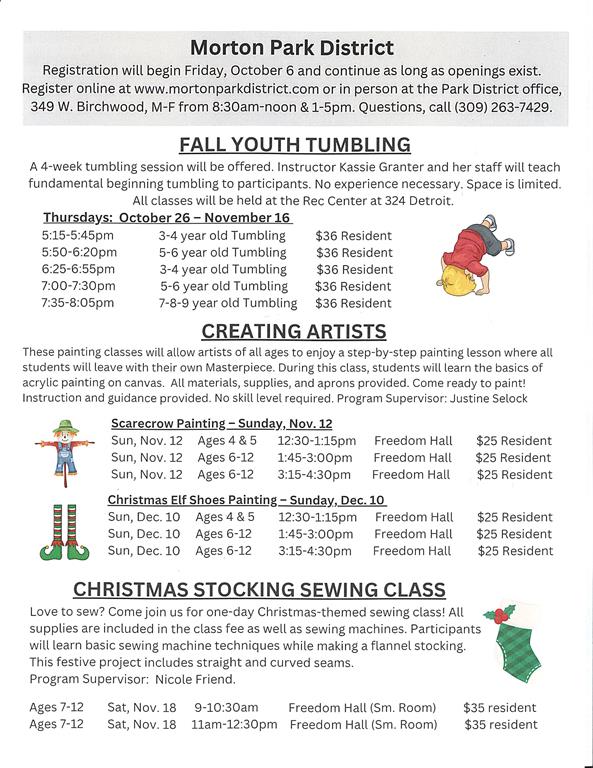 FALL INDOOR SOCCER-REGISTRATION STARTS-OCT. 6TH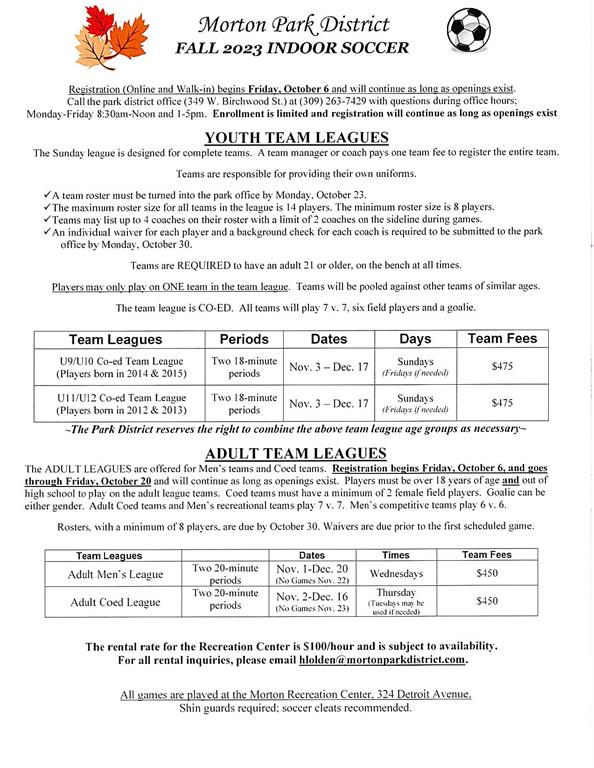 Reminder
Just a reminder that all of our park pavilions DO NOT have to be reserved. They are on a first come basis and they have plenty of room to accommodate large groups. Public restrooms are available near each pavilion.
Also, the pickleball courts are on a first come basis. They do not have to be reserved and are open to the public anytime.
reminder notice
Just a reminder when signing up for any programs or activities, please check your account and make sure you have an updated email address for every person in your household and an updated phone number. We send out information throughout the year that is important and may affect a program that you or your child may be participating in. If you have questions about any program or activity don't hesitate to call the office at 309-263-7429, Monday-Friday 8:30am-12:00 & 1:00-5:00pm.
Calendar Information

To use our calendar tab, scroll to the month that you are interested in and choose a date to check out what is listed on that day. Programs are listed in green and all other activities/rentals are listed in blue. For example: if you are looking for when "play days" starts, click to November and see that on the 1st "play days" is listed in blue with times.
Also, you can click on a month and see the tab at the top that says "showing calendar for". Click on that and you will get a drop down list with whichever facility you are looking for. Click on that facility and that will show what is going on at that place. Please feel free to check if often for available dates for Freedom Hall rentals and programs.
New Account Approval
Please allow up to 24 hours for new accounts to be approved