Announcements & News
Join us at the Rec Center beginning in November for playtime. Little ones can play on the turf with balls, hula hoops and more. INDOOR playground will be closed this year due to COVID restrictions. Advanced registration will be required and will start on MONDAY, OCTOBER 12. Daily registration required for all members of the family attending (including adults) due to COVID capacity limits. Cost is $1 per person with no refunds. Sign-ups will work as a program. No food or drinks will be allowed this year. MASKS ARE REQUIRED FOR ALL ADULTS. Check the attached flyer for more details. Please call the office for further details.
Looking for a place to walk without getting cold or wet? Come to the Recreation Center (located on Detroit St) and walk on the Fieldturf soccer field. The program is open to the public. Participants are asked to wear clean soft-soled shoes. No food or drinks allowed. All participants will be REQUIRED to sign-in at the concession window. Walking traffic must all go in the same clockwise direction. Walkers without masks must stay 6' or more away from other walkers. See the attached flyer for more details or call the office if you have more questions.
reminder notice
Just a reminder when signing up for any programs, please check your account and make sure you have an updated email address. We do send out reminders and other information that is important. If you have questions about any program or activity don't hesitate to call the office at 263-7429.
Social Distancing in Public Parks & Trails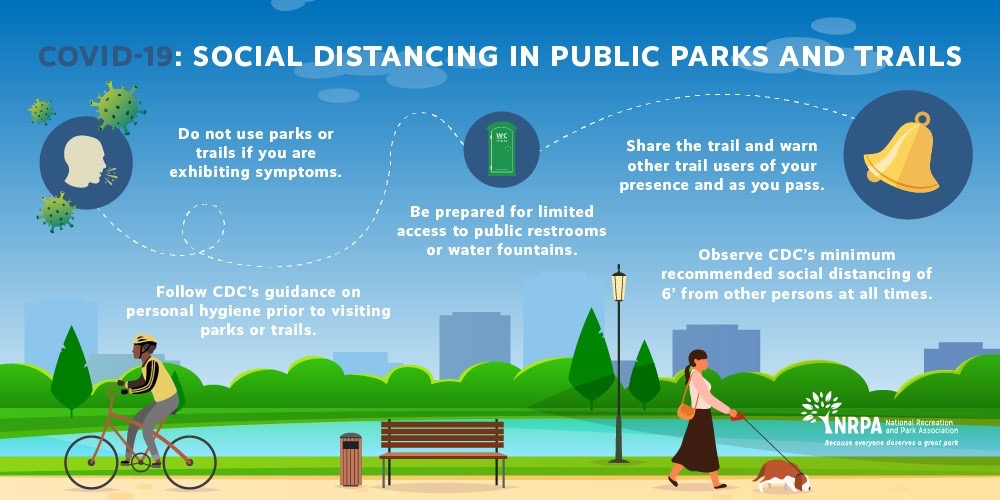 Calendar Information

To use our calendar tab, scroll to the month that you are interested in and choose a date to check out what is listed on that day. Programs are listed in green and all other activities/rentals are listed in blue. For example: if you are looking for when "play days" starts, click to November and see that on the 1st "play days" is listed in blue with times.
Also, you can click on a month and see the tab at the top that says "showing calendar for". Click on that and you will get a drop down list with whichever facility you are looking for. Click on that facility and that will show what is going on at that place. Please feel free to check if often for available dates for Freedom Hall rentals and programs.